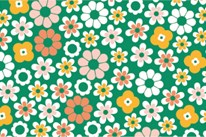 Field Packing Tape by MT Kamoi Kakoshi
$12.00
$0.00
The mt for pack collection is designed for packing and uses a stronger adhesive than regular washi tapes, which makes mt for pack tapes extra sticky and non-removable.
Packing boxes needn't be boring with the mt for pack 'Field' design which features a 60's inspired floral pattern in green and orange.
Size: 45 mm x 15 m 
Made in Japan
Why Choose Mochi?
Made in the Usa
Our supply chain is made up of small businesses right here in the USA.
Small Batch
To minimize waste and keep our designs nimble
Gender Neutral
Mix-and-matchable pieces you can pass down to a sibling or friend
For Kids + Parents
Kid-friendly designs in parent-pleasing aesthetics