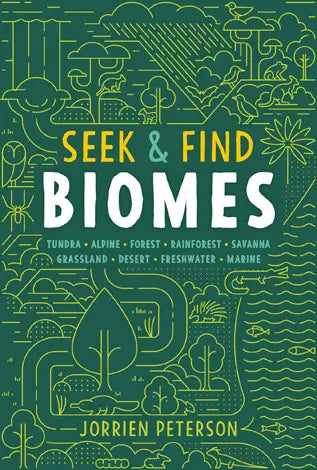 Seek and Find Biomes by Gibbs Smith
$14.99
$0.00
A biome is a naturally occurring community of diverse plants and animals. Explore your world top to bottom with Seek & Find Biomes to learn what makes each one totally unique and see if you can spot the recurring shapes hidden throughout the illustrations.
Did you know that jaguars have been known to hunt in the Sonoran Desert? Or that the Amazon, the most powerful river in the world, is home to the unique pink river dolphin? Seek and find these creatures and many more in their natural biomes. A helpful glossary provides details for further discovery.
Utah Artist Jorrien Peterson is one half of the husband/wife design duo Fell, focusing on design with a sense of place. Fell specializes in a minimal approach to illustration and believes there is beauty in simplicity.
Hardcover 32pgs /Science & Nature/Trees & Forests 

Why Choose Mochi?
Made in the Usa
Our supply chain is made up of small businesses right here in the USA.
Small Batch
To minimize waste and keep our designs nimble
Gender Neutral
Mix-and-matchable pieces you can pass down to a sibling or friend
For Kids + Parents
Kid-friendly designs in parent-pleasing aesthetics