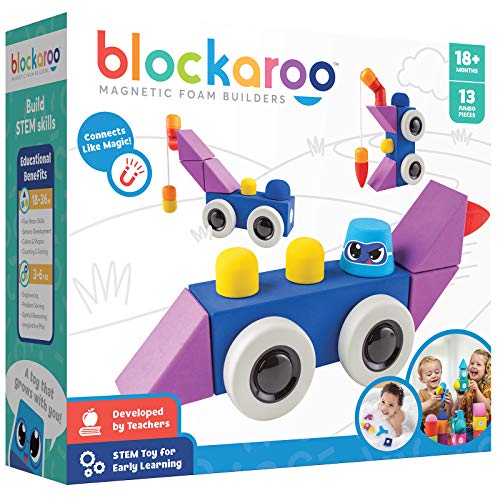 Roadster Set by Blockaroo
$40.00
$0.00
EASIEST BUILDING SYSTEM FOR YOUNG LEARNERS - Blockaroo blocks are a new way to build. The soft foam magnetic blocks click together like magic, rotate 360-degrees, and always attract to each other, creating a multi-sensory experience that kids love!
STEM TOYS THAT GROW WITH YOUR CHILD - Blockaroo builders allow your toddler to explore shapes, colors, and easy stacking with soft foam blocks in the bath! Preschool age kids love them too as they develop engineering and creative thinking skills.
MAKE BATH TIME FUN, EDUCATIONAL & EASY - Blockaroo blocks float and are a creative bath toy that encourages children to let their imaginations set sail. Parents love how Blockaroo blocks make bath time fun and an experience kids look forward to!
LIMITLESS BUILDING POSSIBILITIES - These blocks allow your kids to build anything! This open-ended system provides hours of engaging creative play that helps developing minds grow! Mix and match sets to build bigger and crazier creations!
NON-TOXIC, DISHWASHER SAFE, & BUILT TO LAST - Blockaroo builders are non-toxic and exceed all international testing standards for safety. They are 100% dishwasher safe. Toss them in the dishwasher and they'll be sanitized and as good as new!
Why Choose Mochi?
Made in the Usa
Our supply chain is made up of small businesses right here in the USA.
Small Batch
To minimize waste and keep our designs nimble
Gender Neutral
Mix-and-matchable pieces you can pass down to a sibling or friend
For Kids + Parents
Kid-friendly designs in parent-pleasing aesthetics